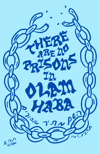 The third in our monthly zine & fold-out poster series brings to the fore the abolitionist teaching of Tehilim (Psalms) 146:7.
Each zine folds out into a 11x17 poster. The text of the zine presents teachings from the Tanakh and Talmud that might offer something to us today in the pursuit of prison and police abolition.
This zine is risograph printed by Spina/Novoa in Tucson, AZ. The zine is on a single sheet of 11x17 French Poptone paper.
All poster proceeds go to the BCCTucson.org - a community center for autonomous experiments, mutual aid, harm reduction efforts, and community-based archiving.
All design and writing by Chava Shapiro.